The 2016 Art & Design Thesis:
The 2016 Senior Thesis exhibition and performances is right around the corner! The exhibition will feature work by the following artists: Skyler Angeles, Mark Beguin, Sara Braden, Jenna Bronson, Ann Draksler, Heidi Eisemon, Deanna Hasselebring, Nichole Nyalka, Boris Peshev, and Stephanie Zelinski. The opening reception will be held on Friday, May 6, 2016, 5 p.m. to 8 p.m., at the Rialto City Center Gallery located on 25 E. Van Buren St., Joliet, IL 60432.
This year's installment will consist of a variety of copiously developed bodies of work produced over the past 2 years. The content ranges from traditional fine arts practice in painting and drawing to highly polished book, magazine and product design to an explorative look at the intersection between music and static images to a performance-space installation that will feature sets of music by some of the region's up-and-coming artists the night of the opening. Come out and join us for this celebration of exciting and intelligent work!
Exhibition Dates:
May 1, 2016 through May 27, 2016
2016 Senior Thesis Show Promotional Video was created by Stephanie Zelinski and Jenna Bronson.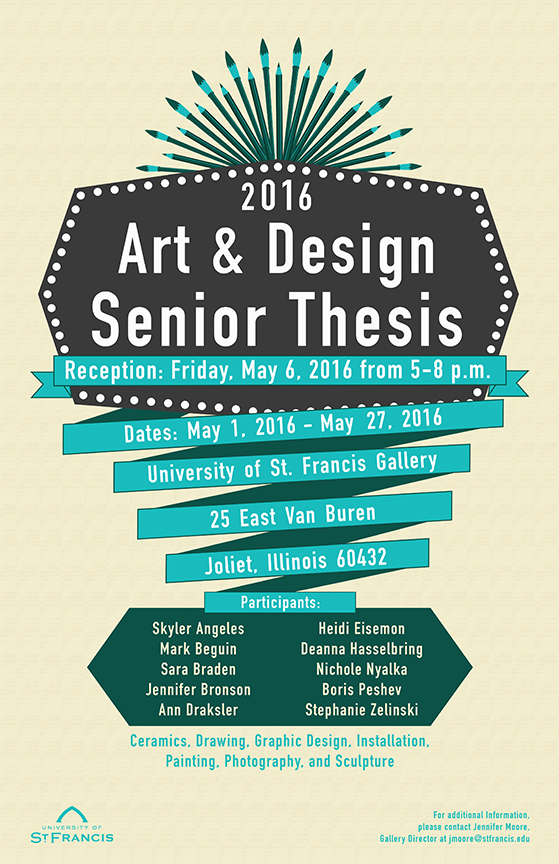 Thesis Poster Design by Jenna Bronson.
2016 Senior Thesis Show Promotional Video created by Jenna Bronson and Stephanie Zelinski.